Salon Appointments
Please use our online appointment scheduling below or contact Tangerine Salon to reserve your appointments by phone 920-459-9899 or email us at Style@TangerineSalon.us.
If you schedule online and do not receive an email confirmation your appointment has not been scheduled. Please try again or call the salon for assistance.
Salon Courtesies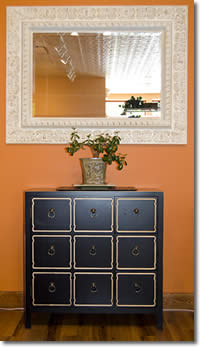 Out of respect for our salon professionals and our salon guests:
On the day of your appointment, please arrive 15 minutes before your scheduled appointment to ensure you receive your full service. If you are running late, we will do everything we can to accommodate you. If you are excessively late, please know that we may have to reschedule your appointment.


We understand the need to be connected, however please silence cell phones during your visit.


This is your time to relax and escape. Whenever possible making arrangements to have someone watch your children is appreciated. You and the other clients in the salon at the time of your service will be glad you did.


Please give 24 hour notice when canceling an appointment. Clients cancelling less than 24 hours of their appointment will be charged up to the full amount of the standard service fee. A credit card number will be required to be put on file when booking the initial appointment.